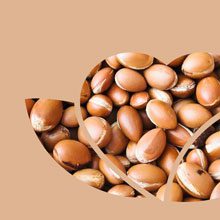 Rich in essential omega 6 linoleic acid (30 to 35%) and anti-oxidant gamma-tocopherol, argan oil is also a source of phytosterols and anti-radical phenols which gives it restorative and protective properties which are particularly valuable for mature skin and hair care.

Suitable for face, hair and body use, and particularly suited to mature, wrinkled or dehydrated skin. With firming and nourishing properties.

In a worm press, the healthy and cleaned seeds are pressed at first cold pressing, without any intervention of solvent or chemical. Then the oil is filtered successively on blotting paper. The oil is then stored away from light and heat.