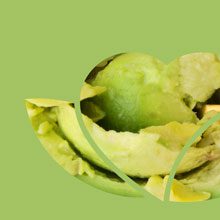 This oil, very rich in substances which cannot be saponified (3 to 8% depending on origin), helps to improve skin elasticity and restructure the epidermis. Moisturising and very nourishing, it provides texture to formulations and is particularly suited to dry, lifeless or mature skin as well as hair care and make up.

Suitable for the face, and lifeless and dry hair and body. Softens, moisturises and regenerates skin.

The avocados are sorted, cleaned, and cooled for 7 days. Washed a second time, the skin and the stone are separated from the fruit pulp. This is then ground and mixed. The oil is extracted by a centrifugal press and then decanted at 15 ° C.