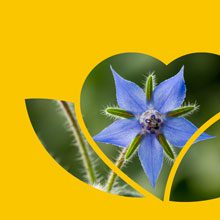 This oil contains a very high level of essential omega 6 fatty acids playing an important role in membrane fluidity and the barrier function of the epidermis (30 to 40% linoleic acid C18:2 and 20 to 25% gamma-linoleic acid C18:3). Particularly suited to mature skin and anti-wrinkle treatments. Fluid and emollient, it restructures the epidermis in tired, dry or sensitive skin.

Borage is a herbaceous plant long known as a medicinal plant. Suitable for face and body use, and particularly suited to dry, mature, tired skin. Moisturising, regenerative and softening properties. Good anti-wrinkle treatment.

In a worm press, the healthy and cleaned seeds are pressed at first cold pressing, without any intervention of solvent or chemical. Then the oil is filtered successively on blotting paper. The oil is then stored away from light and heat.