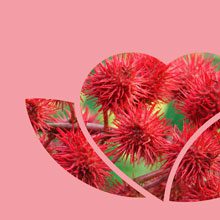 Ricinus communis seed oil
 The common castor oil plant (Ricinus communis, the only species of the genus Ricinus) is a shrub of tropical origin from the Euphorbiaceae family. It comes in the form of a herbaceous or arborescent plant, annual or perennial depending on the climatic conditions of the region. Its height is 1 to 5 meters in France (up to 12-13 meters in its area of origin). 
It is the source of castor oil, which has various applications, and ricin, a poison. It is frequently used for ornamental purposes. 

Organic castor oil is recommended by Emma Noël for the care of your nails, eyelashes and hair. 
100% organic and natural, castor oil is obtained by first cold pressing from castor seeds. 

In a worm press, the healthy and cleaned seeds are pressed at first cold pressing, without any intervention of solvent or chemical. Then the oil is filtered successively on blotting paper. The oil is then stored away from light and heat.