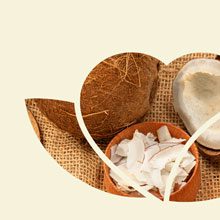 This semi-solid oil rich in lauric acid C12 and myristic acid C14 rapidly dissolves in contact with skin and has a pleasant scent characteristic of coconut. With good stability to oxidation and good emollient capacity, it is a base of choice for semi-solid formulations suited to skin or hair care, but also to massage oils and balms offering a light creamy texture and to sun products.

Coconut is the fruit of the coconut tree, one of the representatives of the palm tree family. Coconut oil is recommended for face, body and hair care. It has emollient, moisturising and soothing properties.

Pressing of the dried coconut flesh and pressed in the first cold pressing in a worm screw press, without any intervention of solvent or chemical product. Successive oil filtration on blotting paper, storage away from light and heat.

Sao Tome, Sri Lanka & Philippines