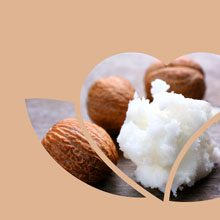 Butyrospermum parkii butter
Shea, Sapotaceae family, comes from trees that grow wild. They have a very long lifespan and bear fruits from the fifteenth year. This butter stands out with its richness in substances which cannot be saponified, these ingredients give it auto-erythema activity, action on tissue regeneration and emollient, softening and moisturising properties. Shea is an active base for all cosmetics.

Shea is suitable for face and body use, and particularly suited to damaged skin. Regenerating and soothing. Maintains moisturisation, suppleness and elasticity of skin.

Fresh and ripe fruits are picked up by women as they fall from the tree between mid-June and mid-September. The nuts are stripped of their pulp, washed and prepared in boiling water for one hour and dried in the sun. The almond containing the fatty substance used to obtain the butter is removed. The almonds are crushed with a pestle, roasted and then brought to the mill for grinding: obtaining a brownish dough then churning step: the dough is kneaded and brewed with water to give a whitish dough. The butter is left to decant and filtered through a cloth. It is then discolored, filtered, deodorized, winterized and conditioned.