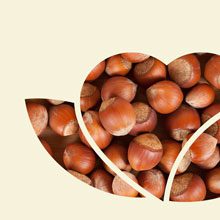 Very rich in oleic acid, vitamin E and a source of omega 6 linoleic acid, this fluid oil, stable to oxidation, rapidly penetrates skin and does not leave an oily film. It can be used in all face and body products, for massages and bath products.

Hazelnut virgin oil is suitable for face and body use, and particularly suited to oily skin prone to acne. Nourishing, firming and and deep cleansing properties. It regulates excess sebum.

In a worm press, the healthy and cleaned seeds are pressed at first cold pressing, without any intervention of solvent or chemical. Then the oil is filtered successively on blotting paper. The oil is then stored away from light and heat.