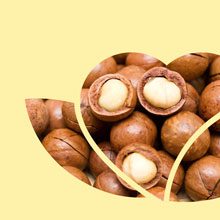 Macadamia Integrifolia Seed
This fluid oil contains a high concentration of mono-unsaturated fatty acids which give it good stability to oxidation (15 to 25% palmitoleic acid C16:1 and 55 to 65% oleic acid C18:1). Rich in phytosterols, it has good emollient and moisturising capacity which means it can be used in all skin and hair care products, oily creams for the body and hands, and in nourishing balms and butters.

The oil is extracted from Macadamia nuts from a tropical tree in Australia and Hawaii as well as in Kenya. Macadamia virgin oil is suitable for face and body use, and particularly suited to delicate skin. With soothing, nourishing and calming properties.

In a worm press, the healthy and cleaned seeds are pressed at first cold pressing, without any intervention of solvent or chemical. Then the oil is filtered successively on blotting paper. The oil is then stored away from light and heat.