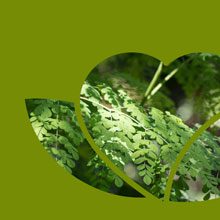 The moringa, Moringa Oleifera, also called tree of life, is very widespread in the subtropical countries and more particularly in India. It is recognized for medicinal, nutritional and cosmetic virtues.

Moringa oil is rich in unsaturated fatty acids (oleic acid) and phytosterols. These are known to promote the maintenance of the cell membrane, improve the barrier function of the skin and slow down skin aging. It also contains a high content of tocopherols known for their antioxidant and anti-radical effects. Therefore, Moringa oil is recommended for its nourishing and soothing action.

In a worm press, the healthy and cleaned seeds are pressed at first cold pressing, without any intervention of solvent or chemical. Then the oil is filtered successively on blotting paper. The oil is then stored away from light and heat.