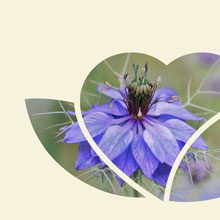 A concentrated source of essential omega 6 fatty acids (45 to 60% linoleic acid), this oil stands out with phenolic ingredients such as carvacrol which gives it anti-radical properties which are very useful for anti-age care products. A source of terpenic ingredients, this oil is an original plant ingredient in cosmetics.

Nigella, from the Ranunculaceae family, is a globally recognised plant used in China, India and in the Arab world. The plant provides tiny intensely black aromatic seeds. Nigella is called black cumin. Suitable for face and body use, and particularly suited to sensitive skin. Moisturising, revitalising, soothing and calming properties.

In a worm press, the healthy and cleaned seeds are pressed at first cold pressing, without any intervention of solvent or chemical. Then the oil is filtered successively on blotting paper. The oil is then stored away from light and heat.