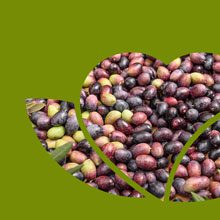 Olive oil, used for skin and hair care since Antiquity, is unique in that it provides anti-radical phenols (tyrosol, hydoxytyrsol, caffeic acid), vitamin E and Co-Enzyme Q10 which gives it properties to fight against skin ageing. Rich in oleic acid, this oil is stable to oxidation and is used in all care and toiletry products. A source of plant squalene, it has emollient and moisturisation properties.

The olive tree is part of the Oleaceae family, the Olea Europea species. The olive tree is a legendary tree, a source of vitality and strength which adapts to dryness and grows in Mediterranean countries. Virgin olive oil is suitable for the face, body and hair and particularly for mature and dry skin. Moisturising, anti-age and anti-oxidant properties.

It takes an average of 5 kg of olives to make 1 liter of oil. – Storage for the shortest possible period (a few hours to 2 or 3 days) – Wash the sorted olives with water. – Crushing: the whole olives are crushed to tear the envelopes of the fruit cells (pulp, kernel and almond) and thus release the oil. – Indispensable mixing to facilitate the exit of the oil and improve the yield. – Oil / vegetable water / solid parts separation in a centrifuge decanter. This pure fruit juice, untreated, made at low temperature (30 to 40 ° C) is absolutely natural. The name extra virgin olive oil is given to oil whose acidity is necessarily less than or equal to 0.8% (Legislation of the European Community.).