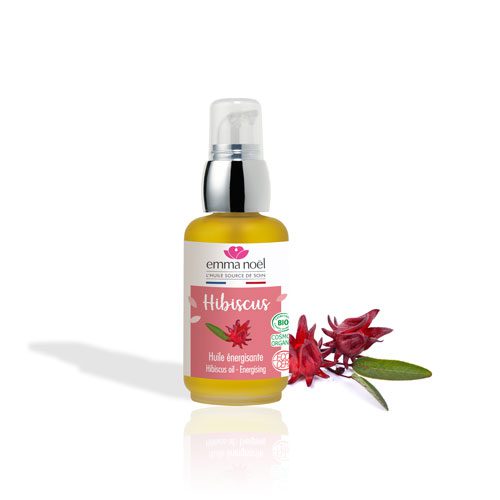 Hibiscus oil is an oil obtained from the cold pressing of the seeds contained in the capsules of the fruits which open at maturity. The hibiscus is a shrub of the Malvaceae family found in Africa, India and Asia, up to 5 m tall and bearing colorful flowers.

Hibiscus oil is an active oil used in cosmetics which is characterized by a high content of omega 6 polyunsaturated fatty acids: C18: 2 linoleic acid and C18: 3 gamma-linolenic acid.
These two essential fatty acids for the skin, play a role in membrane fluidity and promote the barrier function of the epidermis.
These fatty acids contribute positively to slow the insensitive loss of water from the skin.
Also rich in antioxidant tocopherols, hibiscus oil protects cells from oxidative aging, making it an oil of choice for mature skin and anti-aging and moisturizing treatments.

To be used in light massages on the body and the face.

TO KNOW MORE:

INGREDIENTS
100% VIRGIN HIBISCUS OIL* : HIBISCUS SABDARIFFA SEED OIL*
*Ingredients from organic farming.
100% natural ingredients
100% organic farming ingredients
CAPACITY
POINTS OF SALE