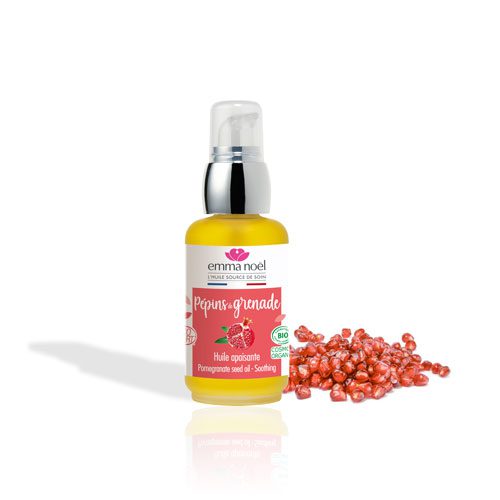 Organic pomegranate seed oil
Contains punicic acid known for its anti-inflammatory properties. Recommended for reactive skin and mature skin.

Virgin pomegranate seed oil contains punicic acid (60%), a rare fatty acid known for its powerful anti-inflammatory properties.
Rich in tocopherols, containing phytosterols and vitamin E, this oil is recommended for reactive skin and mature skin.
It can be formulated in all anti-aging skincare products.

Apply the oil in light massages on your body and face.
Pomegranate seed oil can be used as a cure, with regular application for best results.

TO KNOW MORE:

INGREDIENTS
100% natural origin ingredients
100% organic farming ingredients. First cold pressing.
DERMATOLOGY TESTED
CAPACITY
POINTS OF SALE